BYD Electronics India Pvt Ltd Campus Placement
---
Name of Institute :- BYD Electronics India Private Limited
BYD Electronics India Pvt Ltd Campus Placement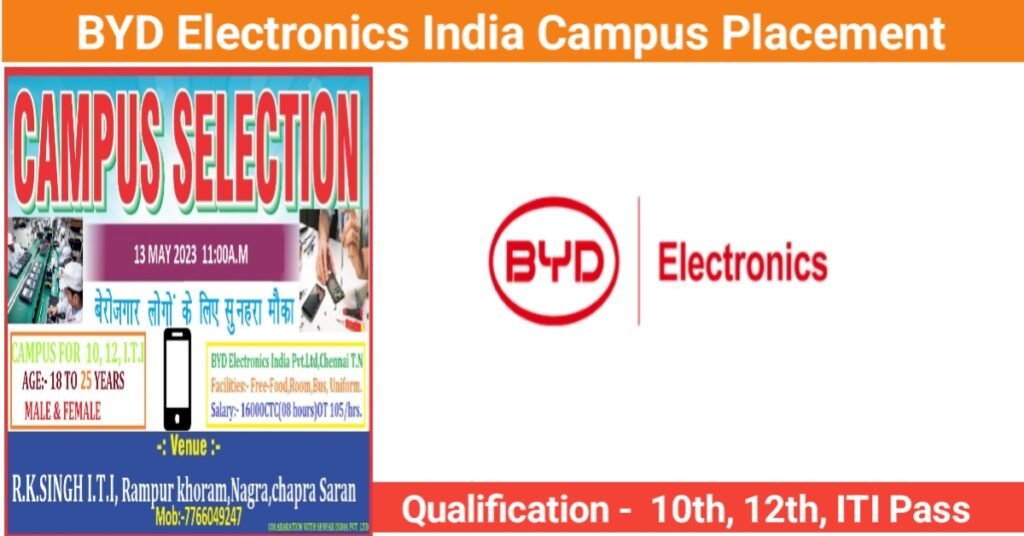 about us :- BYD Electronics Company Limited belongs to BYD Company Limited. Established in 2007, it is a world-leading high-tech enterprise providing electronics manufacturing services. It mainly engages in the manufacturing of electronic components such as appearance parts, structural parts, chargers, and the design and assembly of electronic products. Businesses range from 3C electronics, industrial electronics, automotive electronics to education and medical etc.
Post :-
Work State (Location) :- Chennai, TN
monthly salary :- Rs.16,000/- per month.
Education :- 10th, 12th, ITI Passed.
Experience :- the Apprentice.
Campus Placement Details:-
, date :- 13 May 2023
, Time :- 11:00 AM
, Location(s):- RK Singh ITI, Rampur Khoram, Nagra, Chhapra Saran.
Important Links:-
Comment :- Before going to the portfolio see the official overview.
Disclaimer :-This content or information has been placed on our website for the convenience of our visitors. We do not guarantee any kind of assurance or certification for the above job postings. Candidates are requested to do their own verification.
Don't pay any fee for jobs.
As per advertisement.